WOMEN UNRAVELLED
Data Visualisation, Design Research, Art Installation
︎ Winner of PRINT Magazine Awards 2022 for Data Visualisation
Women Unravelled is a project that tries to understand more about the evolving identity of women with the help of novels and its intertwined content of fact and fiction.

In this project I analyse the female protagonists through their portrayal in three classic literary novels- Far from the Madding Crowd by Thomas Hardy, Jane Eyre by Charlotte Brontë and Madame Bovary by Gustave Faubert from the 19th century.
Process

---
I went through various experiments with stitching and threads before I ended up with my final outcome. This involved- analysing the novels, the different ways of drawing out information, how to highlight and link them, the various manners of perceiving the author's writing and representing your perception of it and finally how I could use stitching to bring out my concept and convey metaphorically what I'm trying to say.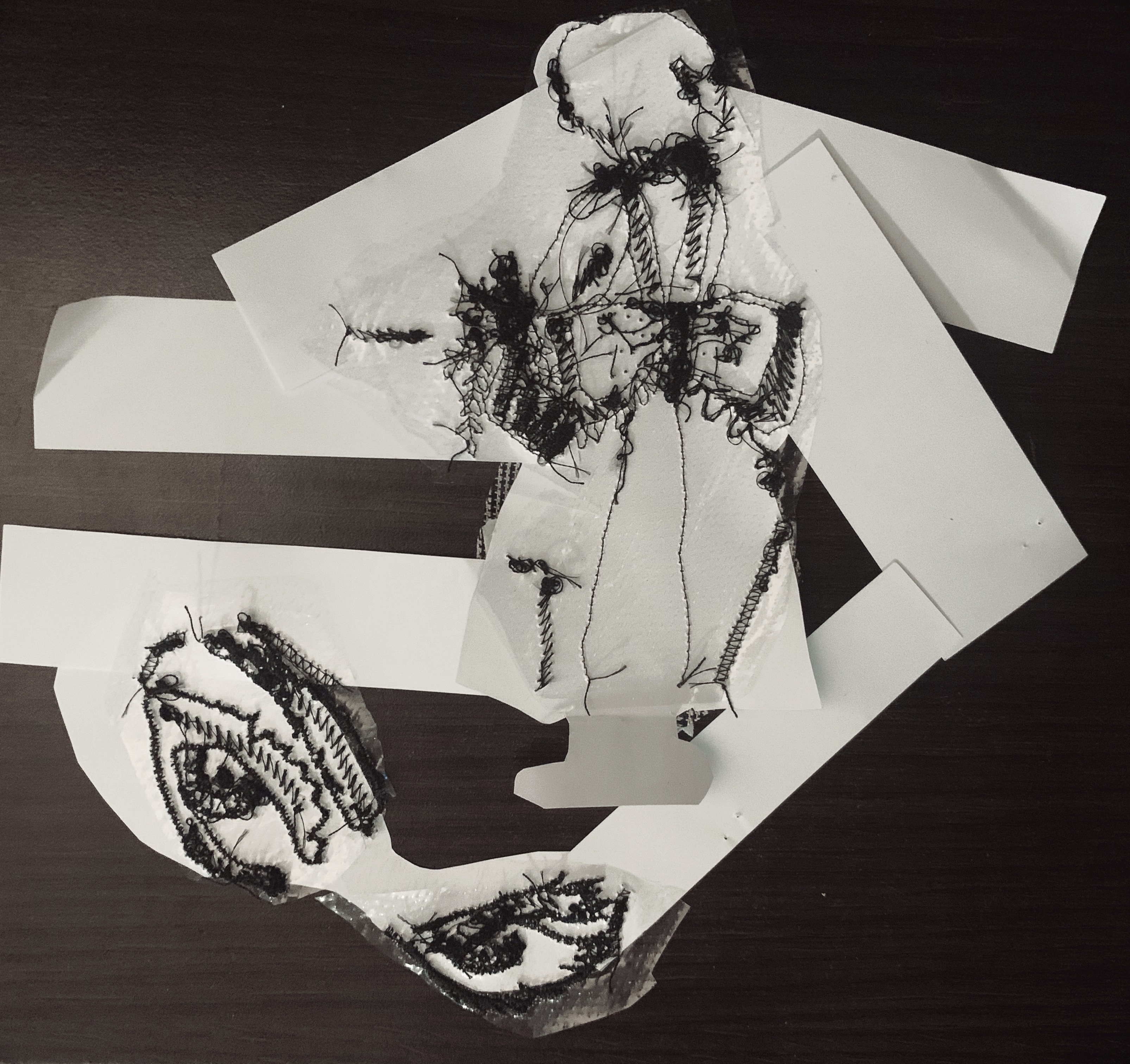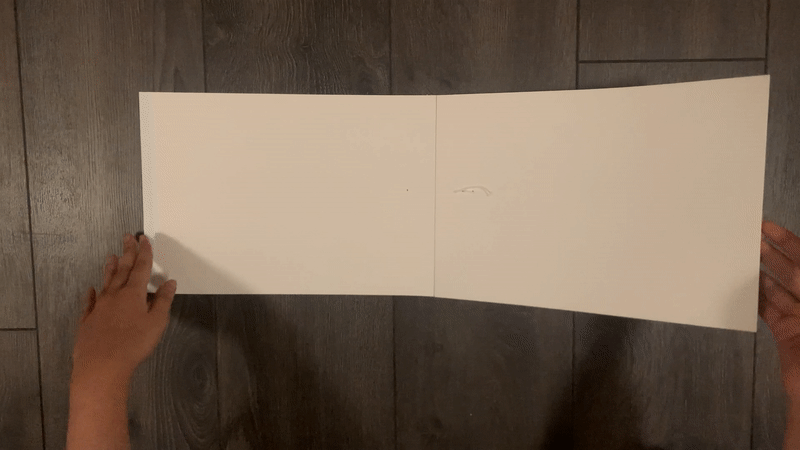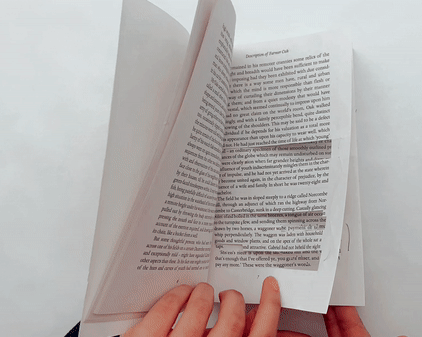 CONCEPT
---
I give life to the character by drawing her out of the authors' context through different colours of stitches. I attempt to rework the text and tie together fact and fiction in an exploratory manner by reading against the grain and speculating the messiness and knotted identity of women. This is interpreted by examining the characters through certain themes, which are tweaked according to the disparate realities and styles of writing of the authors.

---
Stitching is used as a metaphor for the domesticated stereotype women have been labelled with through history and the types of stitching are my reflective evaluation of the control and suppression that is tangled up in their identities.
BOOK 1
FAR FROM THE MADDING CROWD
KEY
Pink stitch
Words and Actions

Blue stitch
Her thoughts and reflections

Yellow stitchDescription of her physical appearance

Black stitchThe external judgments and pressures by other characters and society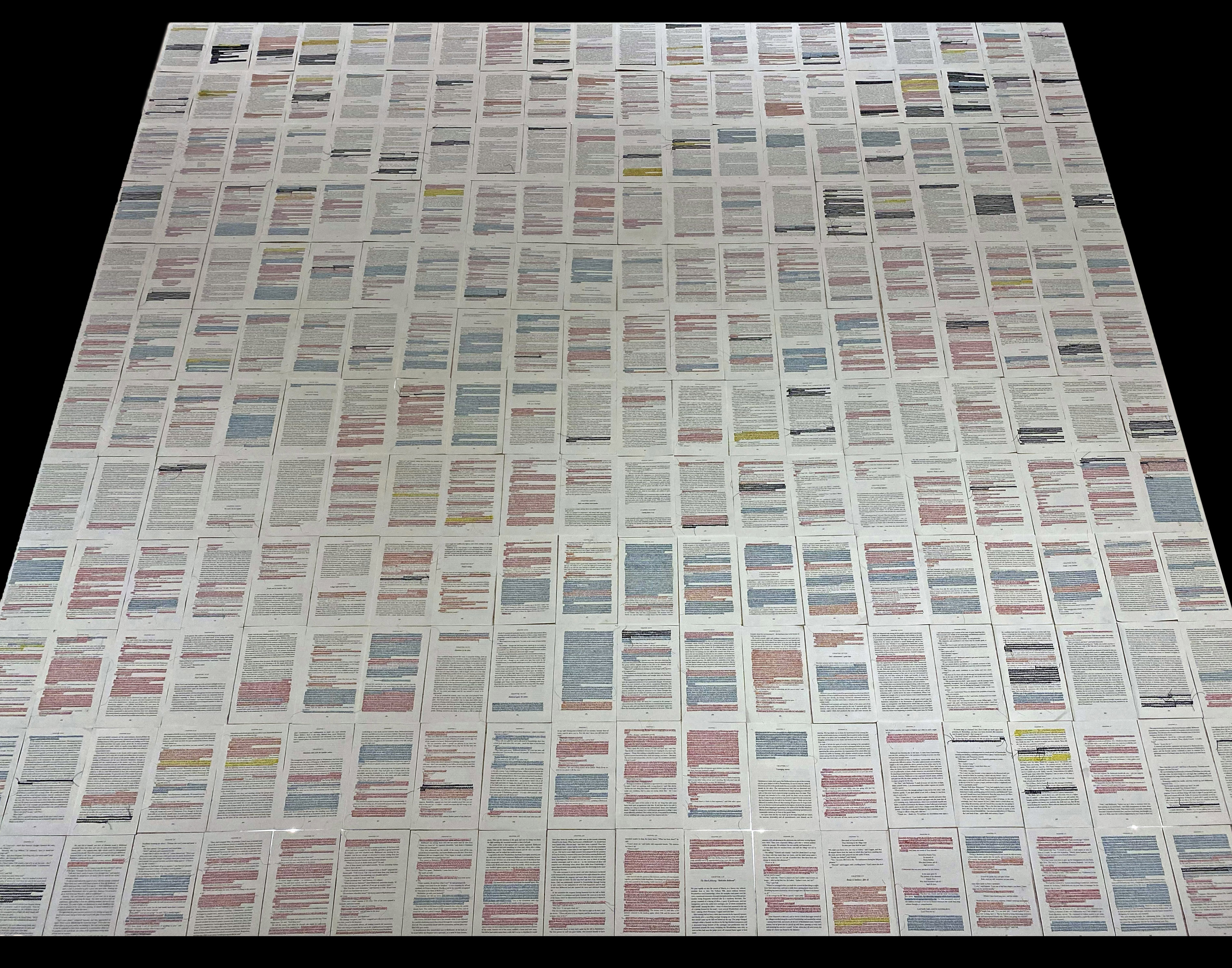 ---
KEY
The key is divided by two styles of stitching. These two categories are further divided into 4 main themes that take place in the novel

Stitch styleJoined dots: female protagonist's thoughts and reflections
Blanket stitch: external opinions and pressures
Themes
Lilac- Class discrimination
Turquoise- Gender discrimination
Peach- Love
Wine red- Religion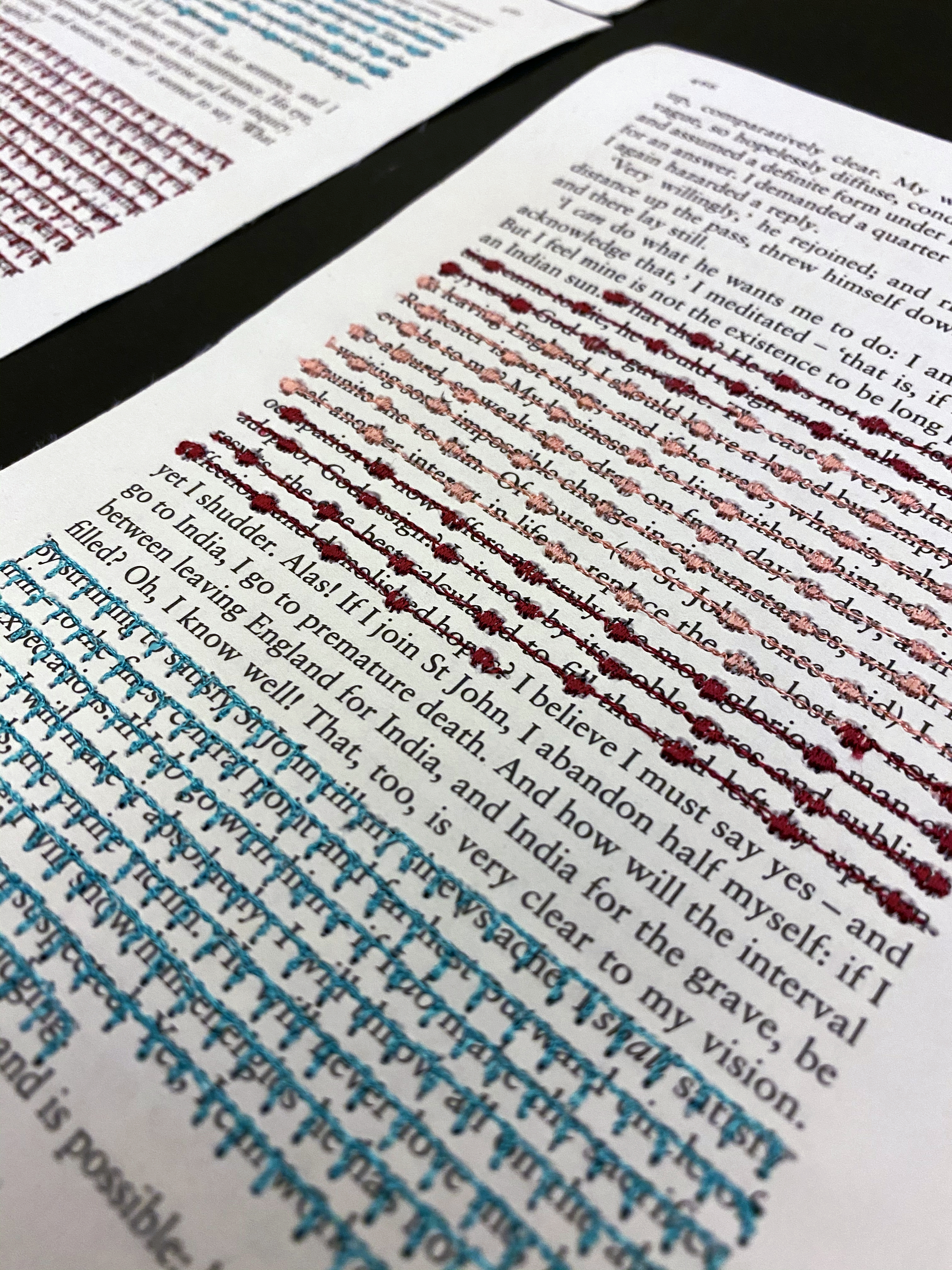 ---
KEY

Red- Sexual and romantic desires
Prussian blue- Powerlessness and dependence on men
Green- Hopes and fantasies about her life
Grey- Boredom and Sadness
INDEX BOOK
'Far from the Madding Crowd'
(an example for all the other novels)
The Index book allows the reader to connect and read the right stitched line in the novel with the original sentence that is underneath the stitches.

CODE:chapter no. : page no. ; sentence no. from top